EUROSMITH interview - Tribute band to AEROSMITH - Mazingarbe 13/03/2010 - HEAVY SOUND SYSTEM




Le 13 mars 2010, de gros riffs de guitares résonneront dans la commune de Mazingarbe (Pas-de-Calais) ! En effet, le TRIBUTE ROCK FEST ouvrira à nouveau ses portes pour une cinquième édition. L'occasion est donc toute trouvée pour laisser LUCA (chanteur) présenter son groupe à l'affiche : EUROSMITH - Tribute to AEROSMITH.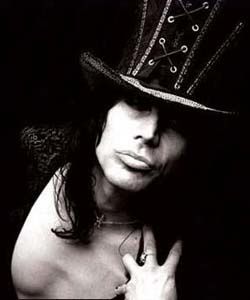 Luca, you are the EUROSMITH singer, an AEROSMITH Tribute Band from Rome, Italy, can you please tell us your band story and introduce its members ?

I'm Luca Celletti the founder and singer of the band. I started singing Aerosmith songs on 1993, the first I've learned it was "One way street", a song from the first Aerosmith's album Aerosmith. that period of time the band's name was Yes of course, I've changed the name in Eurosmith on the end of 1997 when I really wanted to start the Aerosmith tribute.

Line up have changed during the years, it happened because of the musicians availability to bring it on the best way, I mean, being able to perform everywhere...It was just a dream since the beginning...It became real untill now and I can tell it was a and it still is a good challenge to carry on artistical way. Aerosmith is one of the most famous worldwide Rock band, I'd say we are not on trying to be clones at all since ever, we just try to express their music the way we love, as great fans would....Looking forward to share the wonderful wawe of energy their music spread around.

The actual line up:
Luca Celletti as Steven Tyler - Marco Bartoccioni as Joe Perry - Marco Tognazzo as Brad Withford - Massimo Marraccini as Joey Kramer - Marco Sarzo as Tom Hamilton - Andrea Nofri on the Keyboards.
How and why did you have the idea of a Tribute Band ? Is it to get under the skin of a star and feel live sensations or other reasons ?

I've started as a drummer on 1981, as a singer on 1993...it's a natural evolution by natural sincere feelings, passion, attraction...to put a good light on my answering I can tell you I would never ever do something to copy a star to be that star...I hope you got it...

I've a solo project called LaceBlack...comin' soon but a tribute it's also a art opera.

What are the 3 best AEROSMITH albums for you ? Why ?

Toys in the attic, Aerosmith, Permanent vacation. Why? you can't have Aerosmith without those!


In your opinion, what is THE AEROSMITH song ? Why ?

Very easy, I love Dream on in it's essence, difficult to choose more songs to put on my hit.... I love Rag doll'cause it makes me shake even when sitting, I love many more...You know..

You seem getting pleasure in reproducing AEROSMITH songs and clearly the audience move to your show to see AEROSMITH … Isn't it frustrating as a musician ?

No way! I'm personally honoured in reproducing what I like....It seems the the "AIDA" wasn't written by Mr. Pavarotti indeed... It's something you need to put your heart and passion to make it, that's enough to me. Anyway I'm a songwriter too.
How did you choose your set-list songs ? Does it chance throughout the gigs ?

We started this adventure by sensations and it will be always like this till the end...
Set list changes everytime.
Do you work your looking and attitudes on stage as some Tribute Bands do or do you keep your own personality ?
Strange question, I mean, what about the other tribute bands style?...You tell me...come and see the show ! ;) I think you have to have some of your own personality anyway, on everything you do, if you wanna carry on long time....
What can the audience expect from you on stage ?

Aerosmith...But it's wonderful when they see we are not and we can enjoy all together anyway!!!

If fans want a souvenir of your gigs, are there any cd they can get ?


Sometimes yes, sometimes not..it depends from what we bring as our merchandising on that occasion. I gave various things as a present anyway, the last one was a scarf at the Bucharest Hard Rock Cafè few weeks ago...I also gave a parizoma in UK ;)
Next dates in France ?


Go to check www.eurosmith .net !

Which message do you want to leave to HEAVY SOUNDERS who are reading you ?

Hi guys...Gotta Rock this World! ....Sometimes is good to be Good too!!!.......
Rock on!
Luca Celletti - EUROSMITH interview 04/03/2010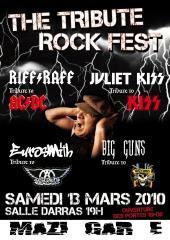 TRIBUTE ROCK FEST photo report - Mazingarbe 13/03/2010
EUROSMITH – Tribute to AEROSMITH
www.eurosmith.net
Retour haut de page :