HEADCHARGER interview - The End Starts Here (2010) - XIII BIS RECORDS - HEAVY SOUND SYSTEM
" Headcharger a refait le plein et arrive, comme une vieille Mustang bien rodée avide de kilomètres, pour livrer « The End starts here », son troisième album.
Mais à quoi carbure la vrombissante machine Headcharger? A un savant mélange en deux temps : metal et rock 'n' roll, où la puissance sonore n'a d'égal que leur sens aiguisé du refrain imparable.
A son bord, un quintet bas-normand qui aiment autant les virils coups d'accélérateur dignes des metalleux de Every time I die (The invention of solitude) que les ambiances rock sudiste à la Lynyrd Skynyrd (Harvey Keitel's syndrome). Si le bolide embraye sur une sombre complainte que ne renierait pas Alice in Chains (The end starts here), c'est pour mieux repartir sur les chapeaux de roue (Intoxicated), tout en laissant parfois échapper de ses vitres baissées un air entraînant d'harmonica (Would you ?). "

Source : www.headcharger.com biographie
Seb (chant) vous présente le groupe au nom de ses acolytes en... anglais (suite à l'envoi par erreur d'un questionnaire... en anglais) ! Pourquoi pas ? HEADCHARGER et HSS sont exportables à l'international !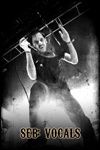 At first, can you introduce yourself and tell us in few words your own career ?

Hi, we are Headcharger, we're from Caen in Normandy (France). Headcharger is : Seb (singer), David and Antony (guitars) Rom (bass) and Guillaume (drums). We started this band in 2004 but we've played together before that. For some of us, it's been 15 years since we started playing together. It's a long friendship story. We got into music like most people do, we listened to music a lot, knew people playing in bands and wanted to do the same. We were 15 at the time and I had Guns n' Roses and Mötley Crüe posters in my room so we were kind of looking for glory and women.
It's been a long way, but we've had so many good times, we're not ready to stop.
What are your own favorite styles and influences ?
Headcharger is 5 guys who like different types of music, though there are some bands on which we all agree. That's what make this band really enriching and interesting, we try to mix all our influences and turn them into our own style. Here is a brief list of what we all listen to : Rom is into hardcore, metal and everything that's really loud and fast. David is more into classic rock, 70's rock band. Antony likes pop and rock. Seb is fond of the 90s Seattle rock scene and Guillaume is into old school hard rock and hip hop.
Which artist you work with or you worked with impress(ed) you the most ?
We've never been really impressed so far, of course many artists are really interesting and all but you know, we're all doing our thing.
What about your promotion work and your relation with press at the moment ? Do you get a good feed back about your new album ?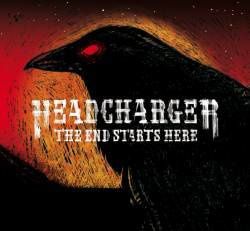 The album has just been released so it's a bit early to tell, but so far we've heard many good comments on the album. The previous album has had really good feedbacks so we knew that people were expecting a lot from this one but everything's going well. We are really proud of this album, so on a promotion level, we hope that our new partnership with XIII bis records will make it possible for everyone to be able to find our album easily, we want to spread our music as much as we can.
What's the mood of it ? What would you say to make people listen to it and buy it ?
What we want first is to please ourselves. This is really what's pumping us, writing new songs, playing them, being all excited about them... On this new album, we've tried some new things, as we did it on our own, we were really free to do what we wanted and as I said we're really proud of the result. If I had to define the mood of it, it's kind of a mix between all the things I've mentioned earlier : a southern classic rock vibe with the energy of metal and hardcore. So, if you like to dance, to bang your head, to stamp your feet, this album is for you.
Where do you find your inspiration for music and lyrics ?

In Headcharger, nothing comes easy, writing new songs is a slow process. The writing process for songs is almost always the same. The guitar comes first. David comes with a guitar riff or two, we jam and see where it's taking us. Sometimes he comes with a whole song and we work on it until everyone has the right feeling when playing it. As we all have a different vision of music, it can take some time to please everyone but in the end, I think that it is what makes Headcharger what it is. As for the lyrics, they're the last part, we see what's the mood of a song and just write things. We all write lyrics and the inspiration mostly comes from our lives, what we see, what we hear. All the things that touch us.
What's your favorite new track ? Why ?
This is a hard question, the album has just been released and it's like we were in the studio last week. We like all the songs of course, that's why it was so difficult to find a track list and to throw away some of the songs we recorded. there's one song that is special for us though, it's "Harvey Keitel's Syndrome" because it's part of the whole "we can do want we want" thing. it's sounds like a southern blues ballad and it's the first time we play something like this. I think songs like this one are giving more depth to the album.
Do you think you will bring something new in music with your new cd ?
I don't know, some people say that everything has already been said. I heard that music stopped in the 70s...I guess we are bringing something new, at least in France because many reviews point out the fact that this mix between rock, metal and hardcore is something new. I don't know and we don't really think about this kind of things.
Will you be touring soon and what can the audience expect from you on stage ?
Yeah, we are starting a tour in February, in France and Europe. We have shows in Switzerland, Belgium and Spain. We are really looking forward to playing all these new songs live. We love that energy that you only find on stage, in front of 50 people or 5000 people. So the audience can expect to see 5 guys who are really happy to be there, who will play some heavy shit, give everything they have and have fun.
Message to HEAVY SOUNDERS :
First, we'd like to thank you and heavy sound for your time and your interest in Headcharger and to the Heavy Sounders : I hope I'll see you all in a coming show, until then, keep on rockin' you boys and girls. Have fun !