MYRATH interview – Desert Call (2010) - XIII BIS Records - HEAVY SOUND SYSTEM
Formation tunisienne, MYRATH offre un Prog Metal original puisque d'inspiration orientale.
Là où des groupes européens ou américains se sont essayés, MYRATH s'offre l'opportunité d'intégrer sur l'entièreté de l'album de belles mélodies dont il a le secret compte tenu de ses origines. L'ensemble du groupe se présente à vous et Malek Ben Arbia (guitare) vous décrit le troisième album : DESERT CALL.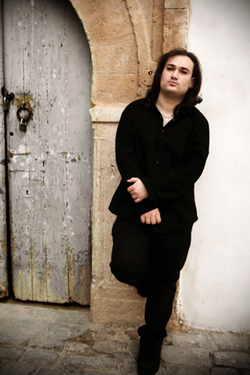 At first, can you introduce yourself and tell us in few words your own career?
My name is Malek Ben arbia I'm Myrath guitarist and band founding member (the only band I have ever played for).
I was born on August 2nd, 1987 in Tunis-Tunisia; I started playing guitar when I was about 12 years old. I first took basic guitar lessons with a guitar teacher then developed my playing skills using mainly video lessons of well known guitarists.
In early 2001, when I was about 13 years old I formed a band called Xtazy(which later changed its name to Myrath) with three of my childhood friends. We started playing covers of various blues artists (such as Eric Clapton, BB King, Jimmy Hendrix) then we got in to heavy metal (Judas Priest, Metallica, Meagdeth) then into Death Metal.
In 2003 I discovered progressive Metal and became a big fan of Michael Romeo and his band Symphony x, so for the about two years I played with my band exclusively Symphony x covers.
After four years of playing music written by others, my band and I started writing our own music, thus in March 2005 we released our first album called ''Double Face".
At the age of 18 I attended a prestigious guitar school known as M.A.I. (Music Academy International- Nancy-France) and graduated In July 2006 which allowed me to improve my playing and composing skills.
In 2007 and after several months of hard work I recorded with my band Myrath our second album "Hope" produced by Kevin Codfert (keyboard player of the French progressive Metal band Adagio). This album was released worldwide in September 2007 by the French label Brennus Music
In November 2008 we recorded our third album 'Desert Call' which was released on 25 January 2010 by the French label XIII Bis Records (in Europe) and by the American label Nightmare Records (in the remaining continents).
What are your own favorite styles and influences?
My favorite style is the one you can hear in our latest album a mix between prog-power metal and Arabian tunes however in terms of bands my favorite ones are :Black Sabbath, Judas Priest, Symphony X , Disturbed, Kill Switch Engage.
My main influences in terms of guitar playing are: Michael Romeo, but also, Greg Howe Paul Gilbert, Frank Gambale, Eric Clapton, Ted Nugent, Tony Iommi but I have since developed my own style of playing (a combination between technical and melodic).
The band :

Elyes bouchoucha (keyboards /vocals)
I was born on 17 September 1985, in Tunis-Tunisia I joined Myrath in early 2003, before that date I played briefly with 2 bands.
I'm a 2003 graduate from Tunis conservatory (classical and Arabic music major) and next year I will graduate from Tunis Music College.
I stared playing piano at the age of 8, violent at 10, keyboards at 12 and metal singing at 17
My main influences are:
Bands:
Black Sabbath, Symphony X, Michael Jackson, Laco Tayfa, Yanni, classical music
Keyboards players: Kevin Codfert, Rick Wakeman, Richard Anderson
Singers: Ronnie James Dio, Russel Allen, Freddie Mercury
Saief louhibi (drummer)
I was born on 10. November 1985, in Tunis-Tunisia I joined Myrath in june 2005, before that date I played briefly with another band.
I have attended Tunis conservatory for a period of 4 years. And I play drums since the age of 15 when I discovered metal music.
My main influences are:
Bands:
Mnemic, Slipknot, Testament, Pantera, Lamb of God, Judas priest, Symphony X, Dream Theater, Disturbed, Killswitch Engage
Drummers:
Mike Portnoy, Richard Christy, Vine Paul, Chris Adler, Joey Jordison, Dave Weckl, Nicolas barker, Vinnie Colaiuta
Anis Jouini (bass player)
I was born on 20 April 1982 in Tunis-Tunisia I joined Myrath in August 2006,
Before that date I played during 7 years with Propaganda a local heavy metal band known mainly for playing Metallica covers.
At the age of 12, I took piano lessons for about 2 years then I have attended Tunis conservatory for a period of 4 years (classical guitar).
When I turned 15 I discovered metal and started playing bass.
My main influences are:

Bands:
Metallica, Iron Maiden, Pantera, Deep Purple, Black Sabbath, Dream Theater, Planet X, Adagio, Aghora
Bass players:
Cliff Burton, Victor Wooten, Billy Sheehan, Jacko Pastorias, Michel Hatzigeorgiou, Michel Alibo
Zaher Zorgati( lead vocals)
I was born on 20. July 1982 in Sousse-Tunisia I joined Myrath in June 2007(that is after the recording of the album HOPE) I have played, previously for about 6 years with 2 other local progressive metal bands (Pirania and Introspection).
I sing and play acoustic guitar since the age of 10 but I have also taken numerous lessons in basic music theories with well known music teachers.
My main influences are:
Bands:
Metallica, Black Sabbath, Pantera, Iron Maiden, Queen, Opeth, Dream Theater, Laco Tayfa, The Killers, U2, Michael Jackson, oriental, classical music, Tunisian and Japanese traditional music
Singers:
Bruce Dickinson, James Hetfield, James LaBrie, Sebastien Bach, Roy Khan
Which artist you work with or you worked with impress(ed) you the most?
The only artiste I have ever worked with is our producer and sound engineer Kevin Codfert who is also the keyboard player and co-producer of the French band Adagio.
Kevin is not only a very talented musician, an outstanding sound engineer and producer but also a true friend.
He is also the one who detected the band potential (when Myrath opened for Adagio in March 2006) and who assisted us in getting the band signed the first time by Brennus –music (the label who released HOPE).
What about your promotion work and your relation with press at the moment? Do you get a good feed back about your new album?
The new album ''Desert Call'' is so far praised by the media and highly appreciated by the fans.
We are getting numerous interview requests thanks also to the superb promotion strategy of our labels XIII Bis Records and Nightmare Records.
What's the mood of it? What would you say to make people listen to it and buy it?
The best answer is in the following extract from one of the reviews:
"Myrath - Desert Call is to date, my favorite album of 2010. It deserves to be one of the best that's for sure. This music has everything a Progressive metal fan could want. Hugely based on this bands playing, and writing abilities. Beautiful music that is sure to get you both head banging, and filling your heart full of raw, metal emotion. Natural exotic sounds, that come naturally, and amazing musicianship make Desert Desert Call a must buy! "
Where do you find your inspiration for music and lyrics?
The inspiration comes naturally from our occidental influence and Arabic back ground as well as from our personnel experiences in day to day life.
We try to come up with a style of our own by letting our inspiration of the moment guide us throughout the composing process, each song comes from the heart ,we never fabricate music and this is certainly the main reason why the tracks of our albums are so diverse.
Most lyric are written once the music is composed so we let Aymen Jaouadi our lyrics written express in words what the music we composed inspires him ,but in general most lyrics talk about today's society hopes and fears without getting into any political or religious issues.
What's your favorite new track? Why?
I hard to say because I love all the tacks from start to finish ,if I have to pick one I would say ''tempests of sorrow 'maybe because it is the last one we composed and reflects best the mix between metal and Arabian tunes we want it to become Myrath trade mark.
Do you think you will bring something new in music with your new cd ?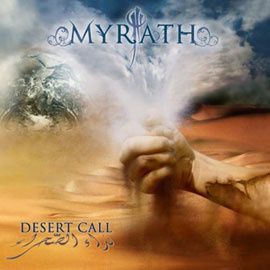 I think that, Myrath has brought something new to the prog-power metal music by a somewhat new style which mixes metal with Arabian tunes in a special way that no other band did before (as far as I know anyway).
Here is the way which one of the reviewers summarizes it best :
'All the music on this album fuse together beautifully, like some mind blowing energy drink. One of the most interesting things about Myrath is the distinct Arabic sounds going on. But this sound is strong all through-out Desert Call. And perhaps the most refreshing thing is that it's not forced. Most bands trying to replicate these beautiful sounds fail by repeating the same style riff. And it just looses the amazing feeling of emotion this type of music is meant to have. This is no problem for Myrath, they have created this sound almost as if it was natural. Which, coming from Tunisia probably is.''
Will you be touring soon and what can the audience expect from you on stage?
We are working on it even though we cannot afford a touring manager yet.
However with the support of both of our labels we will be touring in Europe in few months and probably playing in some festivals.
We can assurance you that Myrath live performances will meet or exceed the audience expectations.