STAGE DOLLS interview – Always (2010) – AOR HEAVEN - HEAVY SOUND SYSTEM
Un quart de siècle après ses débuts discographiques, les norvégiens de STAGE DOLLS reviennent dans l'actualité avec leur septième opus. Torstein Flakne (chant/guitare) présente ALWAYS, une des réussites musicales AOR/FM de ce début 2010 !
At first, can you introduce yourself and tell us in few words your own career ?
I got into playing guitar as a 14 year-old.I had piano lessons as a child but when I started with the guitar that beacame my favourite instrument. Me and my buddies formed a band and played old Creedence/Stones-songs, we performed at school-dances etc. Then at the age of 19 (1980) my band the Kids had instant success in Norway with the single 'She's in love with the teacher' and from then on music became my job so to speak.In 1983,I formed Stage Dolls together with Terje Storli and Erlend Antonsen.
What are your own favorite styles and influences ?
There's been many of course.The Stones were one of them,together with Queen,City Boy,Thin Lizzy,Tom Petty.I guess you could say I'm into melodic rock,but I also like country-music.
About the band :
As I said we formed in 1983. The first years was a really hard struggle.We toured a lot,playing for the fun of it.We did'nt earn a lot of money back then (Sometimes when we played for the door I remember counting people as I was singing haha..)but I think we gained a very dedicated fanbase here in Norway. Then in 1985 we released our first album 'Soldier's gun',it sold quite well and we started to get national recognition.After our second album 'Commandos' in 1986 I think we kind of found our own style and after that the career has been good,especially here in Norway.We also toured a lot in Europe and the US in 1989 with our album 'Stage Dolls', even getting into the Billboard-charts with the single Love cries.Since then,we have toured and released albums in Norway,'Always' is our seventh studio album so far.
Which artist you work with or you worked with impress(ed) you the most ?
In 2001 I got a call from Ian Hunter to work with him on a live-project together with a string-orchestra.Being a fan back in Mott the Hoople-days that was a great experience for me.He was such a nice person and a great musician.
What about your promotion work and your relation with press at the moment ? Do you get a good feed back about your new album ?
Yes the feedback have been very good,As you may well understand I prefer playing guitar more than making interviews but I see that I have to do it.And when the reception is good it's just a lot of fun.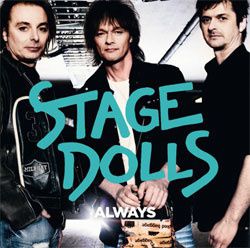 What's the mood of it ? What would you say to make people listen to it and buy it ?
The goal when we started working on this album, was to make a classic Stage Dolls-album but with today's sound.We have always had an open mind to song and arrangement-ideas and basically just recorded everything we came up with.It's an album with a lot of different type of songs but I think you can hear the Stage Dolls-sound all the way through.
Where do you find your inspiration for music and lyrics ?
I usually spend some hours during the day just playing guitar not thinking about writing,but I always record down certain things that I find interesting. A lot of those small ideas turn into songs later.Regarding lyrics it can be something in my own life or others I know,or purely fiction.But I like to make the songs into little stories,to really try and get through with something.
What's your favorite new track ? Why ?
Right now it's 'Taillights'. I like the way the song evolves and also the guitarsolo.There's no simple pattern in the song like verse chorus verse and so on but still it works.
Do you think you will bring something new in music with your new cd ?
Well it's 10 new songs there of course but I think people will find it similar to the stuff we've done before.
Will you be touring soon and what can the audience expect from you on stage ?
We will do a major summer tour here in Norway which you'll find on stagedolls.com,besides we will do Firefest in Birmingham UK in October.On this tour we'll bring the biggest rig we ever had so it'll be quite spectacular.I'm looking forward to it.
Which message do you want to leave to HEAVY SOUNDERS ?
Check out our new album and hope to see you somewhere in the future !
STAGE DOLLS interview Torstein Flakne 04/2010 – Always (2010)
Visuels : AOR HEAVEN
Retour haut de page :