THIN LIZZY Tribute - Mazingarbe 12 mars 2011 - HEAVY SOUND SYSTEM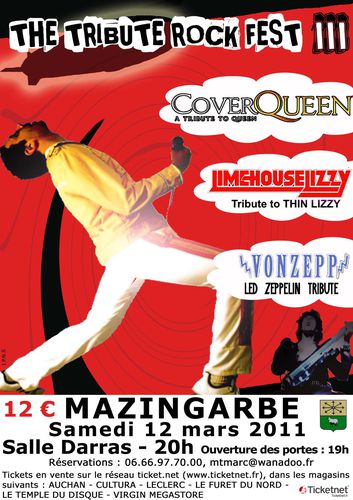 Hi All,
What? FEBRUARY ALREADY?! Sorry, we blinked and missed January - time flies...unlike Egypt Air, currently.....
On a sober note, of course the year will always start with remembering Phil Lynott's untimely passing on 4th January 1986, making this the 25th Anniversary. Although many years have now passed, it would seem that his legacy is stronger than ever. There was a superb BBC documentary on Phil and Thin Lizzy, and 2011 sees not only re-issues but some incredible remixes of some of the key albums.
We all went and saw Thin Lizzy during our time off, and it was great to hear the man's music played live by some of the original band, especially as we got to meet up with bass-supremo Marco Mendoza, new-boy Ricky Warwick and old mate and keyboard-whizz, Darren Wharton (back in the fold where you belong, matey!). Also in attendance, giving rise to a happy reunion, was Paul Guerin, Quireboys guitarist, one-time guitarist with Wayne and Andy in ex-Lizzy guitarist Brian Robertson's 'The Clan' and saviour of the day by filling in on many a Limehouse gig (god, it's all so incestuous!). Many thanks to Lizzy manager Adam Parsons for the invites and making us all feel so welcome.
Our 2011 schedule got off to a blistering start at the Civic Hall in Whitehaven, a blinder of a venue for the first show of 2011. Then a return to the Borders where we played the Maltings Arts Centre in Berwick. Its their 20th anniversary at the Maltings, so many happy returns to all at the venue! All in all, a great start to the year.
Onwards to the North East, to one of our fave raves, the Customs House Theatre in South Shields. Despite sickboy Waynes' perennial flu, the always-up-for-it audience urged another barnstormer out of us, god bless 'em! Rest assured we'll be back next January for our annual new year shindig....to follow, the night after we were at the Platform in Morecambe, for a reunion with Tanny and the boys in the magnificent 'Tin Pan Alley', who proceeded to warm - nay, HEAT the crowd up by blistering through a selection of everyone's favourite Rock and Blues anthems with their own inimitable take. Once again, it made for a great billing and a superb night, and we look forward to doing some more shows with them in the near future.
TEXT MANIACS...
check this out - to receive gig alerts on your mobile for Limehouse Lizzy, you can simply subscribe from your mobile phone, paying only your normal network rate for the first text. After that, receiving alerts is FREE - yes, you read right, we'll send our gigs FREE to your mobiles (Mobile WAP 2.0 browser required)! Simply text 'GIGS LIMEHOUSE' to 82085, and we send you a text message which includes a link to our newly posted gigs. You control when each gig's alerts are sent - usually, text alerts are sent out 4 days before the gig, but you can change this on a per-gig basis - simples! Crikey, don't we treat you good...
UK FOOS IN DENMARK
As you may already know, we are playing the Irish Centre in Leeds on 24th March with the UK Foo Fighters. Well, Jay and the boys really landed a plum gig in January. They got the call to stand in for none other than Dave Grohl and Co. - YER ACTUAL FOO FIGHTERS - and fly out to do a gig at in a Danish brewery. Read about their exploits HERE, and don't forget to catch them with us in Leeds.
Tour dates follow below, and they go down until May. So check 'em out and put 'em in your diary. BETTER STILL, GET 'EM TEXTED TO YA with our new service! And don't forget, book your tickets early to avoid disappointment.
GARY MOORE
News is now spreading of the untimely death of one-time Thin Lizzy member and guitarist-supremo, Gary Moore. A ferocious talent, Gary was both present and pivotal in some of Lizzy's more notable successes, including contributions to albums 'Nightlife' ('Still In Love With You') and 'Black Rose' He later went on to more mainstream success as a blues based player with the release of the 'Still Got The Blues' album in 1990 but not before leaving his mark in genres such as jazz-rock (Colosseum II) and his own brand of hard-rock and metal by way of solo releases such as 'Corridors Of Power', 'Back On The Streets', 'G-Force', 'Run For Cover' and 'Wild Frontier'. However, he may still be remembered most fondly through his collaborations with Phil Lynott, most memorably on the giant hits 'Parisienne Walkways' and 'Out In The Fields'
'Til the next time...
Limehouse Lizzy
2011 GIGS
FEBRUARY
10th BUILTH WELLS - Wyeside Arts Ctr, Castle St, Powys, LD2 3BN tel: 01982 552 555
11th PLYMOUTH - Matchroom Suite, Newnham Road, PL7 4AW tel: 01752 347089
12th STONEY STANTON - The Club, Hinckley Road, LE9 4LJ tel: 01455 272492
18th BUCKLEY - The Tivoli, Brunswick Road, Flintshire, CH7 2EF tel: 01244 546 201
For Those About to Rock Tour 2011 with LIVEWIRE DC
19th MILTON KEYNES - The Stables, Stockwell Lane, MK17 8LT tel: 01908 280800
25th LONDON - Half Moon, Lower Richmond Road, Putney, SW15 1EU tel: 0208 780 9383
26th SEVENOAKS - The Rock Plaza, London Rd, Kent, TN13 1ZZ tel: 01732 450175
27th BIRMINGHAM - 02 Academy, Horsefair, Bristol Street, B1 1DB tel: 0844 477 2000
MARCH
3rd SWINDON - 12 bar, 179 Westcott Place, Wiltshire, SN1 5HT tel: 01793 522377
4th READING - South Street Arts Centre, 21 South Street, RG1 4QU tel: 0118 960 6060
5th MASHAM - Town Hall, Little Market Place, North Yorks, HG4 4DY tel: 01765 680200
With special guests 'Meanstreak' (classic rock covers) www.myspace.com/meanstreakband
10th DISS - Corn Hall, St Nicholas Street, Diss, IP22 4LB tel: 01379 652241
With special guests 'Freebird' (classic rock covers) http://www.freebird.org.uk/
11th SOUTHAMPTON - The Brook, Ports Wood Road, SO17 3SD tel: 023 8055 5366
12th FRANCE - TRIBUTE ROCK FEST, MAZINGARBE (near Lille) tel: 0033 06 66 97 70 00
With top European tributes VonZepp (Led Zeppelin), and CoverQueen (Queen)
> Visit:- http://www.ville-mazingarbe.fr/
17th BOSTON - Blackfriars Theatre, Spain Lane, PE21 6HP tel: 01205 363108
18th SCUNTHORPE - Plowright Theatre, Laneham Street, DN15 6JP tel: 01724 277733
19th MICKLETON - Town Hall, Barnard Castle, Co. Durham, DL12 0JR tel: 01833 640854
24th LEEDS - Irish Centre, York Road, LS9 9NT tel: 0113 248 0887
> With special guests the 'UK Foo Fighters' http://www.ukfoofighters.co.uk/
25th BISHOPS STORTFORD - Rhodes Ctr, South Road, Herts, CM23 3JG tel: 01279 651746
26th STRATFORD UPON AVON - Coxs Yard, Bridgefoot, CV37 6YY tel: 01789 404600
31st CANNOCK - Prince of Wales Theatre, Church St, Staffs, WS11 1DE tel: 01543 578762
APRIL
1st LETCHWORTH - Plinston Hall, Broadway, Herts, SG6 3NX tel: 01462 672003
2nd HAVERHILL - Arts Centre, High Street, Haverhill, Suffolk. CB9 8AR Tel: 01440 714140
With special guests 'Freebird' playing classic rock covers - www.freebird.org.uk
8th WATERFORD - Forum, The Glen, Ireland tel: + 353 (0)51 87 11 11
9th LIMERICK - Dolans Warehouse, Dock Road, Ireland tel: + 353 (0)61 314 483
10th DUBLIN - Civic Theatre, Tallaght, Dublin 24, Ireland Tel: +353 (0)1 4627477
14th WORCESTER - Huntingdon Hall, Crowngate, WR1 3LD tel: 01905 611427
15th HOLMFIRTH - Picturedrome, Market Walk, HD9 7DA tel: 01484 689759
16th BURNLEY - Mechanics, Manchester Road, BB11 1BH tel: 01282 664400
21st SHREWSBURY - Walker Theatre, Frankwell Quay, Shropshire, SY3 8FT tel: 01743 281281
22nd WESTCLIFF-ON-SEA - Club Riga, 228 London Road, Essex, SS0 7JG tel: 01702 348020
23rd WALTHAMSTOW - The Standard, 1 Blackhorse Lane, London E17 6DS tel: 020 8503 2523
29th BIRKENHEAD - Pacific Road Arts Ctr, Pacific Road, Wirral, CH41 1LJ tel: 0151 666 0000
30th BRISTOL - Fiddlers, Willway Street, Bedminster, Bristol, BS34BG tel: 0117 9873403
MAY
6th STRANRAER - The Ryan Centre, Fairhurst Road, DG9 7AP tel: 01776 703535
7th BELFAST - The Empire, 42 Botanic Avenue, BT7 1JQ tel: 028 9024 9276
8th DONEGAL - Balor Arts Centre, Main Street, Balleybofey, Ireland tel: 00 353 (0) 74 9131840
With special guest Mary Gillespie www.marygillespie.ie
13th NEWCASTLE - O2 Academy, Westgate Road, Newcastle, NE1 1SW tel: 0844 477 2000
> With special guests TBC...
TICKETS ON SALE SOON!
14th CREWE - The Box, Pedley Street, CW2 6AG tel: 01270 257398
19th SOLIHULL - Arts Complex, Homer Rd, West Midlands B91 3RG tel: 0121 704 6962
20th FALMOUTH - Princess Pavilion, Melvill Road, Cornwall, TR11 4AR tel: 01326 211222
21st TAVISTOCK - The Wharf, Canal Road, Devon, PL19 8AT tel: 01822 611166
27th PETERBOROUGH - Key Theatre, Embankment Road, PE1 1EF tel: 01733 207239