CRASH THE SYSTEM interview Sören Kronqvist - The Crowning (2009)- FRONTIERS RECORDS - HEAVY SOUND SYSTEM
10 QUESTIONS TO Sören Kronqvist - song-writer
CRASH THE SYSTEM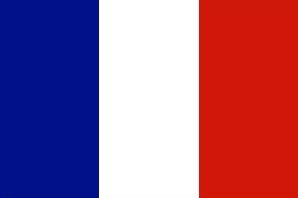 At first, can you introduce yourself and tell us in few words your own career ?
SK: Since 1997 I have been working as a teacher in Physical Education. I started with music about 5 years ago as a hobby, then I was 36 years old. My background is not at all music, but sports (Track&Field and more specifically running the hurdles). I finished my athletic career in 1996. About 5 years ago I felt I wanted to try to write some songs since I have not been up to today able to train more than 5% of what I used to do due to an illness in 2001. One needs to do something, some kind of hobby, etc. A friend of mine in Finland, Gustav Käld, helped me getting started with some basic structure, suggested a few things I could buy, keyboard, programs, etc. I also went to different producers and they showed me how they write, record, etc. About 2 years ago Daniel Flores put some drums on a demo track for me and we kept in contact after that. Last fall I asked Daniel to produce a song for me, "All Because Of You". We both liked how that one turned out and sent it to different labels. After about 3 hours we got positive response from that song and they wanted to hear more. I wrote that I can send more songs next week (this was on a Friday). So, after a busy weekend of writing and re-writing we recorded 3 new songs the next week and sent them away. After a few days I got an offer for a record deal. I assume this is not the normal way, but I was happy. I have written and co-written songs for other bands before this, so I was not totally new as a song-writer.

What are your own favorite styles and influences ?


SK: I was a teenager in the 80's so most hard rock bands from that era has influenced me one way or another. I grew up on Rainbow, Dio, Iron Maiden, Scorpions, MSG, Gary Moore, Yngwie Malmsteen, Judas Priest, Pretty Maids, Treat, Europe and bands along that style. I remeber it was alot of hair-metal bands that I listened to back in the days and still do today from time to time. However, I also like more modern hard rock and metal such as Nightwish, Leverage, Brother Firetribe, Within Temptation, Evanescence, etc.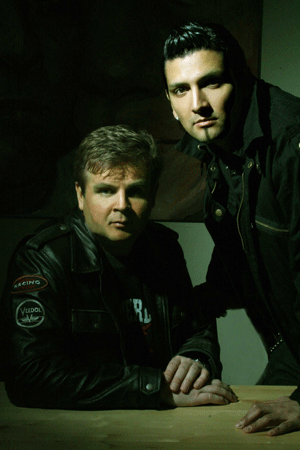 About the band :


SK: Crash The System is not a band, only a recording project at the moment. But, there is a chance there will be some gigs in the future.

On this album, Daniel Flores (Mind's Eye, The Murder Of My Sweet, Tears Of Anger, etc) is doing drums, bass, guitars, keyboards, strings and backing vocals. I am doing keyboards, bass and rhythm guitars.
Guest vocalists on the project are: Göran Edman (Ex-Yngwie Malmsteen, John Norum, Brazen Abbot, etc), Mats Levén (Ex-Yngwie Malmsteen, Treat, Infinite Mass, etc), Thomas Vikström (Ex-Talk Of The Town, Candlemass, etc) and Björn Jansson (Ex-Ride The Sky, Tears Of Anger, etc). Appearing on the album are also Johan Niemann (Mind's Eye, The Murder of My Sweet etc), Daniel Palmqvist (The Murder of My Sweet), and Manuel Lewys (Machinery, Elwood, etc) on guitars with additional keyboards by Andreas Lindahl (The Murder of My Sweet) and additional backing vocals by Angelica Rylin (The Murder of My Sweet).


Which artist you work with or you worked with impress(ed) you the most ?


SK: People have impressed me in different ways. For example, I have been a Yngwie Malmsteen fan since the first record came out, it just blew my mind. And now to have two former Malmsteen singers on the first album is just amazing! Both Göran Edman and Mats Levén are world-class singers. Thanks to Daniel Flores we got together four fantastic vocalists on the album. A specific moment in the studio was when we recorded the vocals to "Don't Tell Me No Lies". Thomas Vikström had not heard any of the song before he came to the studio. We actually recorded vocals to four songs that afternoon (since he was leaving for Argentina the next day or so). It was amazing how quick Thomas got a feel for the songs, I just sang it to him a couple of times and he nailed it with lots of first-takes. I remember when Thomas hit the high notes at the end of the song "Don't Tell Me No Lies". Both Daniel and myself got goose bumps. It was just amazing, especially when we heard it the first time with high volume. My original plan was to have a little softer end, so when Thomas hit the high notes it was totally unexpected to us. Thomas has a very powerful voice and he almost sang us off our chairs. That was a moment I will never forget. The fourth singer, Björn Jansson co-wrote the lyrics and melody to the song "Without Chances" and that song turned out great. Most people seem to agree that it is one of the strongest songs on the album.



What about your promotion work and your relation with press at the moment ? Do you get a good feed back about your new album ?


SK: Right now it's interviews almost daily, some minor newspapers and magazines, some major. I am also updating our web page (www.myspace.com/crashthesystemproject), replying to emails from people who like our music. In the first 8 weeks we got 7600 friends on myspace, 250-400 plays daily, over 1000 comments from people, 23 000 visits, etc. I am not a marketing professional, but I guess that is pretty good in such a short time. Tons of good response on that page!

I have not read all reviews of the album, but quite a few at least. Like with anything else some like it some don't. We only look for people who like our kind of music. The ones who don't like it are of course free to listen to other music, no problem at all for us. Some people like Bruce Springsteen, some hate him. Some like "Johnny's garage band", some hate it. That's life... ;-) So far for us I have seen one 10/10, three 9/10, one 8/10, one 7,7/10 and two 6/10. In addition I have read a handful reviews without any points, but those were very positive. Several people who have reviewed the album were upset over the mp3s they got from the record company (Frontiers). I guess they were expecting a promo disc or the real album, but there seems to be new times with promotional material. Most of the people who have listened to the actual cd seem to like it, so that's good. Reviews are sometimes a little tricky. For example, if someone who is mostly into speed metal or black metal reviews this album chances for this album to get a good review are slim. However, if someone who is into AOR and old school hard rock reviews the album chances are pretty good that it gets a good review.


What's the mood of it ? What would you say to make people listen to it and buy it ?


SK: Many people have told us that this record makes them happy. I guess there are quite a few "feel good" hard rock love songs on the album. But, as long as the record affects someone in a way that they want to be affected it is great. Someone wants to get pumped up before a workout, another one wants good music in the car, a third one great music on the beach in their mp3 player, etc. It will be different for different people. Four of the top-vocalists in Sweden on the same album is worth checking out. These guys have never been on the same album before! As far as I know only two of the have been on the same album before. There is a great deal of "happy-metal" on the album and old school hard rock / scandi-rock / AOR with a metal touch, etc. A lot of people think that there are lots of catchy choruses on the album. It's a little difficult commenting on one's own songs, but I feel there are many choruses that hopefully "stick" in people's minds.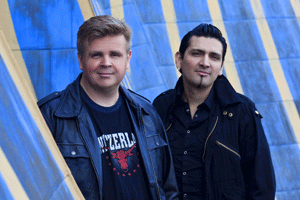 Where do you find your inspiration for music and lyrics ?


SK: Inspiration hits at any moment. Unfortunately it is usually when I have gone to bed. Then all of a sudden I get a melody line, a riff or something else in my head and I have to get back up again and record it so I don't forget it. I got some ideas for a couple of the songs on the album on the way to work, some driving a car, and some when I play around with different sounds on the keyboard at home. Occasionally, I just sit down and decide to write a ballad, a fast song or whatever I decide to do. Usually something comes out, which I later can use as it is or write some new parts, etc. The lyrics come basically the same way as the music, it either pops up anytime or I sit down and write because of a deadline. Sometimes deadlines are good to focus intensively on something. But, usually it is best to let inspiration come when it comes...


What's your favorite new track ? Why ?


SK: It is difficult to pick out ONE favorite, (like many other people who have reviewed the album have said). "All Because Of You" will always have a special place in my heart since it was the first song we did and the song that got us started as Crash The System. Other songs that I like are: "Fight Fire With Fire" (great vocals by Göran Edman and backing vocals by Göran and Mats Levén) and "Without Chances" (powerful vocals by Björn Jansson and a cool guitar solo by Manuel Lewys).


Do you think you will bring something new in music with your new cd ?


SK: I feel we are bringing in a mix of styles that to me is new. We use old school 80s hard rock and AOR as a base and adding some modern elements to it, some chopped up guitar riffs, some modern metal strings here and there, etc. Maybe there are other bands or projects that do the same thing also, but I have not heard them at least (the same way we do it). I have not listened so much to other music lately. I have been busy working at my regular job and then learning about song-writing, recording, etc. 5 years ago I was completely clueless when it came to recording, etc. Needless to say I have had (and still have) a lot of catching up to do in the business.


Will you be touring soon and what can the audience expect from you on stage ?


SK: I am a song-writer and this is mainly a recording project, not a band. However, it is not impossible that there will be some gigs with CRASH THE SYSTEM. We have actually talked a little about it. But, if there will be some gigs sometime it will probably not be with everyone since the people on the album are from different bands with different schedules, etc. People from different countries have asked us when we are coming to their place to play. We will see if we get enough people together one day, it would be fun!


Message to HEAVY SOUNDERS :


SK: Hope that you will like the album and hope to hear from you on our myspace page!


Sören Kronqvist - CRASH THE SYSTEM interview - juillet 2009


Photos promo :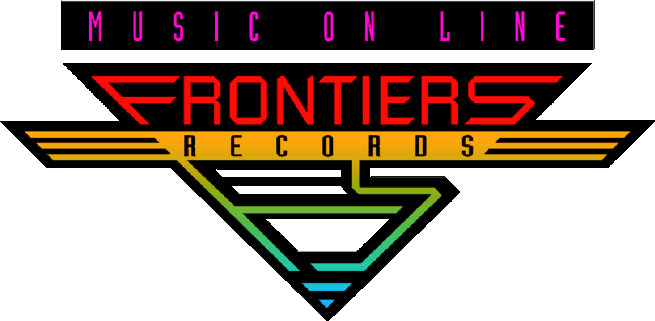 MySpace : www.myspace.com/crashthesystemproject