Bert Heerink interview – Better Yet… (2009) - AOR Heaven - HEAVY SOUND SYSTEM
Quel bonheur que de revoir Bert Heerink ! Le même qui fut le chanteur de VANDENBERG. Oui, le groupe de Adrian Vandenberg qui a officié au sein de WHITESNAKE dans les 90's.
Pour l'histoire, le groupe hollandais VANDENBERG avait bénéficié d'une bien belle notoriété dans les années 80 qui lui avait permis d'ouvrir pour des groupes tels Michael Schenker Group, Ozzy Osbourne. Après un troisième album en 1985 (Alibi) qui manqua de support de la maison de disques (Atlantic Records), le groupe disparut de la circulation...
Bert n'avait rien chanté de Rock depuis près de vingt ans et le voilà de retour avec BETTER YET... pour le meilleur ?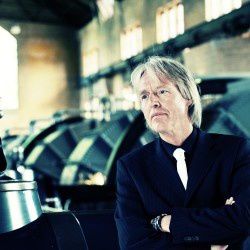 At first, can you introduce yourself and tell us in few words your own career ?

I started making music at the age of 14. my first real band was Treshold. Then in the early eighties Vandenberg came and the success was worldwide. After the breaking up of vandenberg I was lucky to have a great solocareer in Dutch, even had a golden album! I was also singer with Kayak for 5 years and now work mostley with big orchestra's in projects like "Symphonic Echoes of Pink Floyd" with the Dutch NNO.

What are your own favorite styles and influences ?

I am a big fan from Jan Akkerman and Kaz Lux and the band Brainbox. They influenced me a lot; world class and stil active, my example...



Wich artist you work with or you worked with impress(ed) you the most ?



Ad Vandenberg (Whitesnake), Jaap Eggermont (producer) and Michael Voss (producer + guitar). They have been very important to me and my career during the last 25 years.


What about your promotion work and your relation with press at the moment ? Do you get a good feed back about your new album ?

Worldwide I received compliments and good reviews for the album. I am honored and proud and very happy. To have so many interested people asking for me and to so many interviews all over the world is a joyful thing which makes me very happy!!!



What's the mood of it ? What would you say to make people listen to it and buy it ?



It became a real feel good album as well in the lyrics as in the music. It is produced very nicely and the songs are all about love, peace and (not all the time) understanding. My voice is in a very good shape as I may say so and all together it is an album that you can even listen to having a nice dinner with friends.



Where do you find your inspiration for music and lyrics ?



For this album I was in the luxurious situation to have great songwriters working for me: Harry Hess, Jeff Silbar, Russ Ballard, Michael Voss& Chris Lausmann and others. They wrote me songs that fit my character and voice and I think they did a great job.
What's your favorite new track ? Why ?
Panic Attack. It is so different from what I am used to sing and it has a very catchy riff. In the Netherlands it is a hitsingle right now so I am not the only one who thinks so!



Do you think you will bring something new in music with your new cd ?



It is given to just a few to really do something new in music; almost everything has been done already No, I am sure there is nothing new about it but it is very pleasant and inspired so why should it be new then? These qualities are very important to me.



Will you be touring soon and what can the audience expect from you on stage ?



I am lucky to have a great and solid band that I am going on tour with in the Netherlands and Germany for a start. Maybe even some festivals abroad and we are very anxious to start the tour at the 18th December. On my website you can find all the exact places and dates.



Which message do you want to leave to HEAVY SOUNDERS ?



Let's lighten' up the world a bit with good music and good spirit.




Bert Heerink interview – Better Yet… (2009)
Website
photos & visuels :