LOS ANGELES interview Michele Luppi - Neverland (2009) - FRONTIERS Records - HEAVY SOUND SYSTEM
LOS ANGELES est un projet monté par Michele Luppi en 2007. Michele est reconnu par la scène Hard Rock et Metal depuis plusieurs années puisqu'ayant été le chanteur de VISION DIVINE et étant le leader et producteur du nouveau groupe KILLING TOUCH.
Pour aboutir à son projet d'AOR, il s'est allié à FABRIZIO GROSSI (producteur et bassiste - Glenn Hughes, From the Inside, Vertigo). Contrairement à son album précédent qui faisait appel à des auteurs externes au groupe, les compères ont coécrit avec les contributions de Eric Ragno (China Blue), Joey Sykes (Hugo), Roberto Priori et l'ex-Dokken George Lynch.
Place à Michele, pour la présentation du très réussi NEVERLAND !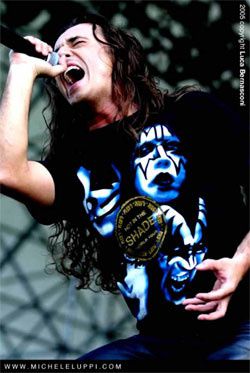 At first, can you introduce yourself and tell us in few words your own career ?

Though I first started taking Piano lessons at the age of 7, well, I guess I was daydreaming at school one day back in '89 when I decided I wanted to become a Musician… I didn't care at all about Latin and math, so… Since then I've always written Music, I soon started taking seriously Piano and Keyboards until I figured out I needed to be a singer if I wanted to make it. I started out like anyone else: joined bands, made experience with older mates, created my own recording studio and played live as much as I could! I was 20 when I founded Mr. Pig, the band that changed my career for good for some many reasons…
What are your own favorite styles and influences ?
Too many to mention. I like to think I created my own style. "Unique" is the key-word for every so-called Artist; I also wrote an album with my band (Killing Touch) around that theme, called "One Of A Kind". I believe Music is an infinite Universe you can call by your name if you're smart enough to fill it with all the Magic you've filtered along your path… You can basically get influenced by an ambulance siren as much as the sea waves nearby the beach you used to go as a kid, if you listen deeper and deeper… The way you mix notes in your brain has nothing to do with the message you hold in your head; we only have to study more and more "the Musical Grammar" so our vision can be appreciated over the years and leave a beautiful sign of the life we got…
Which artist you work with impress you the most ?
I don't go for myths. I strongly believe there's a lot to learn from everyone, even from my students; sometimes a good lesson is to learn what your should not do, if you know what I mean… When I perceive someone "built his own sound" (whether he's a singer or an instrument player) based on his own taste, I tip the hat to that and respect him totally… I developed my path filtering information in order to make it mine; I hate style-cloning monkeys, treating personality like a pair of shoes; we should all respect more other people's work.
What about your promotion work and your relation with press at the moment ? Do you get a good feed back about your NEVERLAND new album ?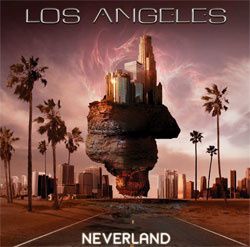 Sure. It's way easier to sell a second album, from any point of view… I got a different feedback this time compared to my older releases. I think it has something to do with the fact that it's not my first Album anymore and everybody (press and fans) treat me as an old friend you can say anything you want to… There's a lot of expectation from an Album like "Neverland" and I'd rather run on the first league and get kicked sometimes instead of being always treated like a "Star Child"… I'm going to be 36 next month if you know what I mean! All I need to do is stay focused and add a new life to every project I'm involved with, just like I've done so far…
What's the mood of it ? What would you say to make people listen to it and buy it ?
Well, the whole "Los Angeles" is meant to be like a nice surprise; once you've been hooked up with terrific choruses you dig deeper and may discover "there's more than meets the ear". A song needs meaning, passion, attitude and a reason to be; sometimes some of these things are a little bit hidden… I believe the coolest thing about Music is to discover beauty is only skin deep.
Where do you find your inspiration for music and lyrics ?
Music is my first and my last inspiration, always. Lyrics are reflections of places between reality (at least how I perceive it) and how things should be in order to have a "Just" environment around us.
What's your favorite new track ? Why ?
Well, there are some. "Neverland", "Promises" and "Paradise" aren't quite new; I wrote these 3 tracks with Roberto Priori 10 years ago! I do love songs like "Higher Love", "Nowhere To Run" and "City Of Angels".
Do you think you will bring something new in music with your new cd ?
I always try to. You see, to me recording an Album first of all means to grow. I don't try to "catch the moment" I'm living; I'd rather develop my style respecting all my previous works, creating a project that can reflect my sensibility in every note I sing. It doesn't matter how and how much but there's gotta be a reason for everything. With Neverland I tried to keep the precision of my voice emission, adding a more natural and strong attitude…
Will you be touring soon and what can the audience expect from you on stage ?
I'd love to tour with my AOR songs. I've already put together a band for that purpose… The only problem is that right now I'm still touring with my Melodic Metal Band (Killing Touch) and with Maurizio Solieri (with whom I opened the last Deep Purple Italian tour). We'll see, hopefully this summer will be the right time…
LOS ANGELES interview Michele Luppi (03/2010) - Neverland (2009) - FRONTIERS Records
Photos :

www.micheleluppi.com www.killingtouch.com
www.myspace.com/micheleluppi www.myspace.com/killingtouch
www.myspace.com/fabriziogrossi