E.Vil - Elias Viljanen interview (2009)
Elias E.Vil Viljanen, guitariste


«Fire-Hearted» est le troisième essai de E.VIL ou Elias Viljanen (guitariste de SONATA ARCTICA depuis 2007). E.VIL est avant tout un projet instrumental pour lequel le «six-cordiste» s'est entouré cette fois-ci de de J.Kainulainen (Evergrey, ex-Stratovarius) à la basse, Henrik Klingenberg (Sonata Arctica) aux claviers et Mikko Siren (Apocalyptica).
Quelques questions pour mieux le connaître et découvrir son album... Vous noterez que sa guitare est bien plus bavarde que lui !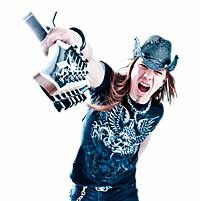 At first, can you introduce yourself and tell us in few words your own career ?
I had my first acoustic at the age of 10. First electric guitar at 13. I formed my own band already at the age of 13. We played Metallica infuenced trash. After that I´ve played trash, death and even played the drums in a black metal band! My trash band in the late 80´s was called The Enemy. Then Depravity was the name of my death metal band. Later on I´ve been played more progressive metal with bands like Blackbay, Mess, Arched. Also some cover bands for Kiss, Dear Victims.
What are your own favorite styles and influences ?
I listen rock mainly. From Aor to Norwegian black (almost)...
Kiss, Metallica, Morbid Angel were my biggest influences when I was younger, then became Dream Theater, Satriani, Vai. Nowadays I enjoy music in festivals where we play. You know, I get to see all kinds of bands..

Which artist you work with or you worked with impress(ed) you the most ?

Mikko Sirén (Apocalyptica), Jari Kainulainen (Evergrey), Marco Hietala (Nightwish, Tarot) to name a few. Those guys are totally awesome.


What about your promotion work and your relation with press at the moment ? Do you get a good feed back about your FIRE-HEARTED new album ?

So far only positive.

What´s the mood of it ? What would you say to make people listen to it and buy it ?

Listen to it and buy it, Goddammit!! Seriously I think that my new album is very diverse and you´ll enjoy the songs after many years from now...

Where do you find your inspiration for music and lyrics ?

From the music I hear and maybe some movies I see. But mostly what´s going on in my life.

What´s your favorite new track ? Why ?

Hard to name one. Sorry.

Do you think you will bring something new in music with your new cd ?

Of course!

Will you be touring soon and what can the audience expect from you on stage ?

We begin touring with Sonata Arctica in the Fall 2009. I always rock it out to the fullest!!
Message to HEAVY SOUNDERS:
Rock hard and heavy! Remember to brush your teeth every now and then.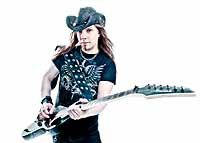 Elias Viljanen interview - juin 2009
Photos promo :