WITHIN TEMPTATION interview SHARON Janny den Adel - An Acoustic Night At The Theatre (2009) - HEAVY SOUND SYSTEM

Black Symphony, le somptueux live de WITHIN TEMPTATION ne pouvait que procurer la joie aux fans du groupe car il en délivrait (fin 2008) les standards dans une version symphonique en cd et dvd. De bien beaux objets pour patienter jusqu'à la sortie d'un nouvel album studio !

Mais stupeur fin 2009... WITHIN TEMPTATION édite un nouveau live : AN ACOUSTIC NIGHT AT THE THEATRE ! Nous ne pourrons leur en vouloir face encore une fois à un cd de qualité... SHARON, après un bilan positif du passif de la formation, nous explique et se fait pardonner... :-)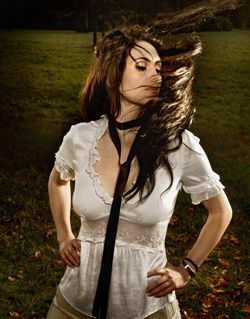 SHARON, welcome in the HEAVY SOUND SYSTEM ! I wish you a Happy New Year !

Thanks, happy new year to you too. :-)

The first WITHIN TEMPTATION album ENTER was released in 1997, would have you thought still being there playing music thirteen years later ?

I always hoped we would but you never know what life has in store for you.

How did you feel when your band became bigger and bigger ?

In the beginning we had to get used to it especially when Ice Queen became a hit, which we never thought would ever happen to us as we were not aiming for that kind of success.

MOTHER EARTH brought you success in 2000. Even if some tracks of this album became WITHIN classics, would you change something ten years later ?

Yes, I always disliked the guitar solo in 'Our farewell' and I still do.
It wasn't there in the original demo and sounded better, things like that, but overall I'm still very satisfied.

What is the WITHIN TEMPTATION best seller today ?

It's difficult to say as the cd-sales went down for all bands in general in combination of illegal downloads which we didn't had when Enter end Mother Earth came out, but all albums have been very succesful sofar.
Enter was in a different way succesful than the other albums, more an underground succes.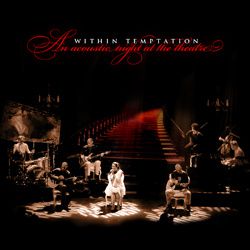 You've just released a new live album AN ACOUSTIC NIGHT AT THE THEATRE, what about your promotion work and your relation with press at the moment ? Do you get a good feed back ?

We're happy with the response we got.

What's the mood of it ?

It's more atmospherical which is logical when it's a live acoustic album.

Knowing that you released a live album last year, what would you say to make people listen to it and buy it ?

You can't compare the two live albums.
Where the black symphony-cd is something you might play in your car or on a party. The acoustic live -cd is something you can play at any occasion...lol.

What's your favorite "new version" ? Why ?

'Caged', it has become even more celtic than it ever was before and it brought the best out of the song.

ICE QUEEN is a WITHIN classic. It doesn't appear on the tracklist album... Was it easy to choose what have become acoustic versions ?

It was a combination of band and fan favorites and we had already played ICE QUEEN a lot of times acoustic before this theatre tour.

Is playing in acoustic way easier than in symphonic and electric ways ?

No, it's more difficult because you have to stay more focused because you'll hear very small mistake.

You can't get the same attitude in electric, symphonic and acoustic gigs.
Which one gives you the more pleasure ?

We like to switch between them after a while as it's the combination of the diversaty we like so much and keeps it interesting to do what we do.

Most of your fans were expecting for a new studio album... you bring them new (great !) versions of your stuff, a rare live (the b-side TOWARDS THE END in intro) and one new song UTOPIA. Do you think it's enough ? Is that the best way to make fans wait ?

We realize that fans mostly want new material, but good new material takes time to create and in the meantime other things like a 'Black Symphony' or a 'theatre tour' just come on our way which are both special events we want to
capture in the form of a cd/ dvd.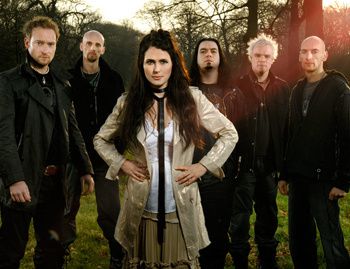 Recording an unplugged album was a 90's fashion. Is WITHIN TEMPTATION "out of fashion" :-( or was it really time to do it :-) ?

We never followed the music-fashion. Some things just crossed our path and when it feels right, we do it.


Do you think you will bring something new in music with your new live cd ?
Is that the best way to discover WITHIN TEMPTATION ?

It's something new for the fans who know us and maybe a nice introduction for new fans.


What about the UTOPIA duet at the end of the cd ?

It's an extra song for the fans, which would not have fitted on any other WITHIN TEMPTATION -album and it does on this one.


I heard that you are working at the moment on new songs. Will you take a new direction ? What will 2010 WITHIN TEMPTATION sound like ?

We are inspired by bands of the scene who didn't inspire us when we started our kind of music in the early '90, but now they do. We're combining old with new.


You will be touring acoustic in the next months . About 20 gigs, most of them in Netherlands and Belgium... Is that a way to stay "home" and work on your studio album ?

Yes, otherwise the material is gonna take even longer to get released.


Please tell us your new cd will be released before the end of the year ! ???

We hope so and are still on schedule.

Here are personnal questions :
How's growing up the family ?

It goes too fast and we enjoy every step of it all.

Sharon , is that easy for a Mum to leave home and children for touring ?

No but it's not easy for any parent to leave their kids behind for a certain time but this is what I do.


Does your activity give to both of you (Robert) enough time to share with your children ?

It will take a different schedule the way we tour but we'll try to find a good balance between both worlds.


Is that easy to do the cook and the clean at home together and sing and play guitar on stage àt night ? ;-)

I guess as we are still around after all these years. Of course we have our heavy moments but so far so good :-)


Except my questions :) , what is the more stupid question you heard in interview ?

Too many... :-)


I wish you a big success with AN ACOUSTIC NIGHT AT THE THEATRE !
And i thank you for this HEAVY SOUND SYSTEM interview !

You're welcome, until next time!


Which message do you want to leave to HEAVY SOUNDERS ?

Stay tuned, we'll be back....moehaha



WITHIN TEMPTATION interview SHARON Janny den Adel 26/01/2010 - An Acoustic Night At The Theatre (2009)





Site officiel
Site officiel francophone