HEAVEN'S BASEMENT interview - HEAVEN'S BASEMENT (2009) - BAD REPUTATION - HEAVY SOUND SYSTEM
Pour un coup d'essai, c'est concluant ! Le mcd que viennent de sortir les anglais de HEAVEN'S BASEMENT est une bien belle carte de visite même s'il ne contient que peu de titres. Leur nombre de six est suffisant pour juger la formation à sa juste valeur : énergique, sauvage, mélodique !
ROB (basse) se plait à vous présenter son équipe et son cd :



At first, can you introduce yourself and tell us in a few words your own career?

My name is Rob and I play bass in Heaven's Basement. I began playing when I was 14 and went straight into a band with some friends from school. Through the years I've been in a few bands and even supported Heaven's Basement, when I saw they were looking for a bassist I contacted them straight away and I was lucky enough for them to pick me.
What are your own favorite styles and influences?
I like to listen to a wide range of music, I've always been into bands like Led Zeppelin and Pink Floyd, as well as current bands like Queens of The Stoneage and Muse.
About the band :
We're Heaven's Basement from the UK. We've been going for just over 18 months and in that time we have played alongside bands such as Papa Roach, Buckcherry, Shinedown, Bon Jovi and Black Stone Cherry.
We our influenced by loads of different types of music and try not to sound like one specific style, each of us constantly listens to new things so our sound as a band is constantly evolving.
Which artist you work with or you worked with impress(ed) you the most?
When we toured with Papa Roach it was incredible, they had so much energy on stage and never gave anything less than 100%. They really made us raise our game.
What about your promotion work and your relation with press at the moment? Do you get a good feed back about your new album?
We've had great feedback from the EP although we've never had a major press push in the UK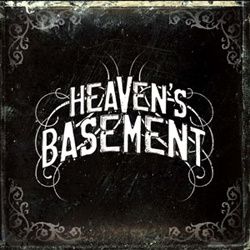 What's the mood of it? What would you say to make people listen to it and buy it?
I think the mood captures our energy, so if people are looking for a rock band with a good energy then they should check us out
Where do you find your inspiration for music and lyrics?
We all chip in ideas musically, normally one of us comes up with a riff and if we all like it ideas begin to flow until we have a basic framework for a song. There are no set routines for writing songs or lyrics and that's what keeps the whole process interesting. The inspiration normally comes from everyone's mood/feelings at the time.
What's your favorite new track? Why?
We have a few new songs that we've just started playing live, 'Best Without You' which has a massive main riff and a great melodic chorus, and 'Paranoia' which Jonny actually sings live, it's so much fun to play!
Do you think you will bring something new in music with your new cd?
Our debut album will, yes
Will you be touring soon and what can the audience expect to see on stage?
We will be doing a headline tour in the UK towards the end of February, as soon as that is finished we are touring all over Europe as main support for Theory Of A Deadman. We have also just been confirmed to play the Raismes Festvial on 12th September, which will be our first ever show in France!
Message to HEAVY SOUNDERS:
If you've never seen us live come and check us out, you won't be disappointed!!!


HEAVEN'S BASEMENT interview janvier 2010 - HEAVEN'S BASEMENT (2009) - BAD REPUTATION

Visuels :

myspace.com/heavensbasementofficial




Retour haut de page :