JULIET KISS interview - Tribute band to KISS - Mazingarbe 13/03/2010 - HEAVY SOUND SYSTEM

Le 13 mars 2010, de gros riffs de guitares résonneront dans la commune de Mazingarbe (Pas-de-Calais) ! En effet, le TRIBUTE ROCK FEST ouvrira à nouveau ses portes pour une cinquième édition. L'occasion est donc toute trouvée pour laisser GIACOMO (chanteur & guitariste) présenter son groupe à l'affiche : JULIET KISS STARCHILD - Tribute to KISS.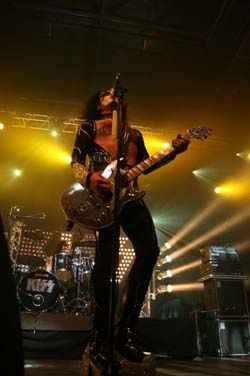 Giacomo Gigantelli, you are the Juliet Kiss Starchild Vocalist & Guitarist, a KISS Tribute Band from Italy, can you please tell us your band story and introduce its members ?
We started as a band in 2001 with the idea of a cover band which wants only to play better as we can Kiss songs and have fun, but after few months it was clear that the people wanted to see masks and pyros for a Kiss tribute band. So we started to think BIG as the real one and little by little we can say now to make a « true credible » show. The band guys are Marco Ferrario as the SpaceAce, Marco Zani as the Demon, Roberto Zanoni as the Catman and me of course the Starchild ! even if is impossible to recreate the real KISS, they are for us really the hottest band in the world and we always try to put our big rock and roll passion in every show !
How and why did you have the idea of a Tribute Band ? Is it to get under the skin of a star and feel live sensations or other reasons ?
Everyone in the band are musician before everything ! All of us started to play rock in the early 80 years but we started to buy rock vynils in the middle 70's. So Led Zeppelin, Deep Purple and many others are in our mind since we were very young. I saw Kiss for the first time in my life when i find to my friend house Alive II vynil and when i saw that stage with all that blasts and fire i was shoked !! When in 1980 i've been to my firs concert in Milan, at the end of the show i promise myself to try to be a rock musician in my life. And this was it ! So when i found 3 other guys fully crazy like me for KISS i though was the time to try to make this tribute band !
What are the 3 best KISS albums for you ? Why ?
Oh, for me all are great ! hahahahah !! but if i have to stay in a desert island i will take with me the 3 Alive (I , II, III ) probably only for the energy and feeling they give me !
In your opinion, what is THE KISS song ? Why ?
Big guitars and melody but simple even if very tough and rock and roll. When you see people sing all together during the show, these are the best songs ! and Kiss are one of the best for that !
KISS has had different line-ups through its career, some have worked better than others… If you had to combine the ultimate KISS line-up with members who played, who would they be ?
I think probably me and many people will say the first one, because with that line-up everything started. But all line ups have had their high and low but the songs remains. I mean, when you hear Lick it Up or I was made for lovin you or Deuce they can be played with different solos but the songs remains the same, it really doesn't matter who is playing it ! Good songs are good songs ! Could be different if Kiss changes Paul or Gene...when this will happens so i can answear again this question ! hahahaha !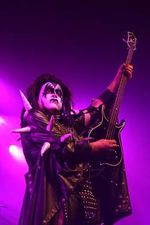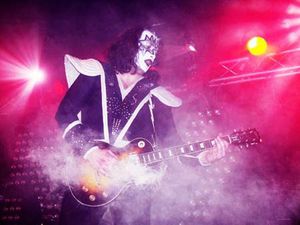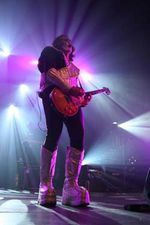 You seem getting pleasure in reproducing KISS songs and clearly the audience move to your show to see KISS… Isn't it frustrating as a musician ?
It depends how you take this. I know many musicians who make tribute to someone almost thinking they are the real one ! This is terrible ! I'm on the stage as the first fan of the band i'm tribute to ! So for me is only fun and if i can see people singing along with me i know i'm giving something good to someone almost as the real one ! To share passions and feelings, this really compensate me as a musician and for all !
How did you choose your set-list songs ? Does it chance throughout the gigs ?
It depends on how much time we have. Usually we put all the « classics » and if we have more time we put specials so yes, the gigs changes all the time. Anyway even if we have to play the same songs, the show changes all the time because Kiss show are really crazy shows and all could happen !
Do you work your looking and attitudes on stage as some Tribute Bands do or do you keep your own personality ?
From the beginning we knew we cannot be the original one, so we worked only to be credible musicians first, than try to have a good attitude (but you must have great attitude to play rock anyway !) Of course some movements or some parts of the show are similar but we wanted to keep a little of our personality. Better to show a bit of you than to show all fake !
What can the audience expect from you on stage ?
Rock and roll passion and big sound ! we give always the best we can !
If fans want a souvenir of your gigs, are there any cd they can get ?
We recorded a CD some years ago called Verona Rock City in homage to our own town, but now is sold out ! maybe could be reprinted but we don't know yet. Anyway we hope to have a « free » meet and greets with fans in Mazingarbe after the show and we still have some copies of cd expecially for this festival, some commemorative t-shirts and other things in limited special edition. So wait for us at the end of the show !!
What are your next dates ?
After France we come back in Italy to continue the tour in our country, maybe we will be in Spain, Germany and Croatia at the end of year... and maybe in France again ?? who knows ??
Which message do you want to leave to HEAVY SOUNDERS who are reading you ?
Heavy Sounders will have Heavy Sounds ! So keep your faith alive and voice to sing with us Rock and Roll all Nite and Party every day !!!
Thank you very much for your interview ! Hope to see you at the show and sing with us too !!
Ciao !
Giacomo Gigantelli - Juliet Kiss Starchild interview 03/03/2010


TRIBUTE ROCK FEST photo report - Mazingarbe 13/03/2010
JULIET KISS backstage photo report - Tribute band to KISS - Mazingarbe 13/03/2010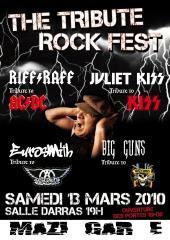 Retour haut de page :